"One World, One People"
School Concert - NEW!!
(60 minutes) Bobby's new "One World, One People" School Concert inspires students to "THINK BIG" about who they are as individuals and also as part of a greater whole!
It challenges students to see that each of us is not "small and alone" in this world, but rather that we all belong and are part of a "big family" on this small planet Earth. The bigger we choose to see ourselves in this world, the deeper we feel connected to it and then we treat each other and ourselves with the respect and dignity we all deserve!
Bobby was inspired to create this program as a follow-up to his other Character Education-based concerts and songwriting workshops, after seeing that perhaps the most powerful and transformative of the character "virtues" was that of unity – all of us together as one "big family", as well as celebrating the diversity (acceptance, peacefulness/"anti-bullying") within that unity. Bobby believes that respect, caring, fairness, and all the other virtues can arise naturally out of having a greater sense of connectedness with ourselves and each other in the world.
The show begins with 5-10 minutes of interactive dialogue and humour, followed by a rousing music concert full of sing-and-shake along fun!
New song titles include:
One World, One People
Everybody Shout – Peace Out!
Friends Make It Fun
Everybody's Different But We're All The Same
One World Dance Party
Groove in Your Music
"Kids Have Character!"
School Concert
(60 minutes) Bobby Boogaloo's original "Kids Have Character!" School Concert is a fun, educational and inspiring sing-and-dance-along that will leave kids with Bob's unique and uplifting songs dancing in their heads and feet.
The show inspires Character Education and Social Responsibility values, such as respect for oneself, each other, and the environment, persistence, courage, responsibility, citizenship, and thinking for oneself. It is upbeat, humorous and interactive, with kids not only singing and dancing along, but also helping to spontaneously create songs with Bobby and even joining him onstage for some funny antics!
This concert program is specifically designed to integrate an educational value with an entertainment value - the repertoire of songs has been created with this focus in mind.
Songs include:
I Feel Really, Really Good (positive attitude)
You Can Be The You That You Were Meant To Be (courage)
Do The Next Thing Now! (responsibility)
This Is The Song, Follow Along (just plain fun)
Taking Care of Each Other (unity, caring, celebrating our differences)
Thank You (gratitude)
"Family Boogie Party"
School/Community Dance Concert - NEW!!
(60-90 minutes) This is all-out-fun dance concert encourages kids and their parents to come together to sing, shake, and celebrate in an open "dance hall" format!
This can be an evening or special event performance at your school or community centre. There are deep discounts available for schools who wish to add a Family Boogie Party on to one of Bobby's more educational day programs, such as a "Kids Have Character!" School Concert or a "School Song Workshop".
The "Family Boogie Party" Concert features songs from Bobby's upcoming "Family Boogie Party" CD – an upbeat mix of some of the most dance-able and sing-along-able fun songs that he's written and performs with his "grown-up" band at festival shows. There is no "message" here except perhaps that "life is better, and much more fun, when we all come together to sing and dance as one!"
Bobby created this concert after seeing - with his own young family - the lack of opportunities for families and kids to get together and dance, shake, laugh, sing and make fun.
If your school is having a "School Song Workshop" during the day, adding on a Family Boogie Party in the evening for all the families to attend, can be a great way to showcase the "world debut" of your brand new school song - the kids LOVE gathering around with Bobby to sing it out for their parents after working so hard during the day to help create and record their very own new song!
"Bobby Boogaloo & the OogaBooga Band"
Full Band Kidz Rock'n'Rollin' Sing-and-Shake-Along Show -
Perfect for festivals and theatres!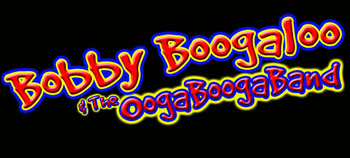 This is real deal - Bobby with his amazing OogaBooga Band - Dave on the bass and Jeremy on the drums (yes they are also a real "grown-up" band too)!! Playing their upbeat tunes in a high energy, real rock'n'roll (and many other fun genres from around the world) concert with full interactivity in a sing-and-shake-along format for the kids!
Perfect for larger festival and theatre shows. See the videos here!
"Ho-Ho-Holidays Sing-Along Show!"
Fun Festive Sing-and-Shake-Along!
Some holiday fun for your students!
This fun, 'tis-the-seasonal sing-along is Bobby doing what he does best: leading the kids through a fun-filled concert of songs delivered with his own twists, humour, and, of course, kid-interaction (including an improvised on-the-fly re-write of the 12 Days of Christmas using the student's ideas)!
Bobby loves to reinterpret/reinvent songs, and does so with a few faves: Rudolph the Red-Nosed Reinder – he uses this story to teach kids about accepting, appreciating, and celebrating our differences (the other reindeers used to laugh and call him names because he was "different", but of course, it was was made him different that ultimately made him the hero); We Wish You A Merry Christmas; Blue Christmas – everybody gets a kick out doing an "Elvis"... Uh-huh; Jingle Bells; Feliz Navidad; Santa Claus is Coming To Town; Frosty the Snowman.